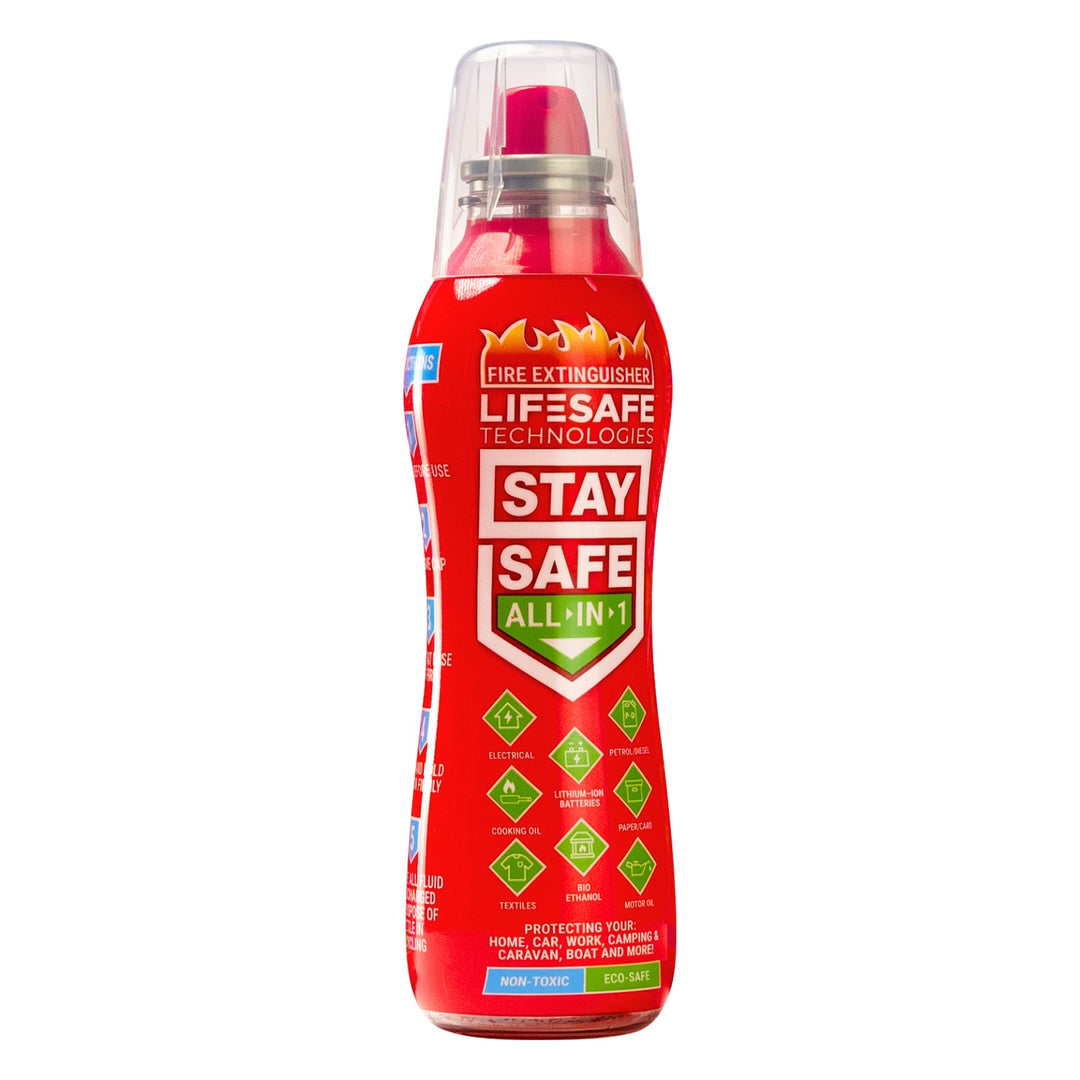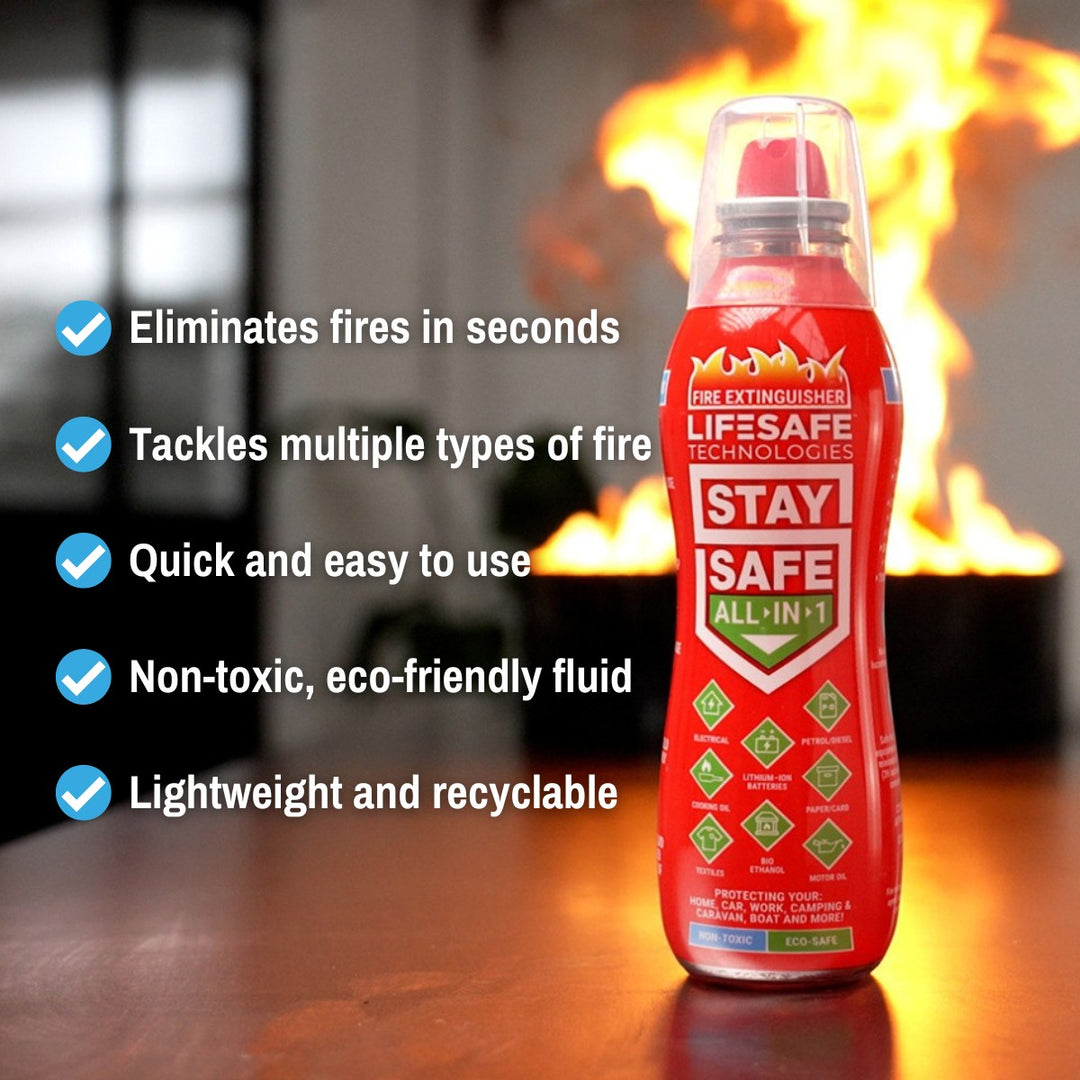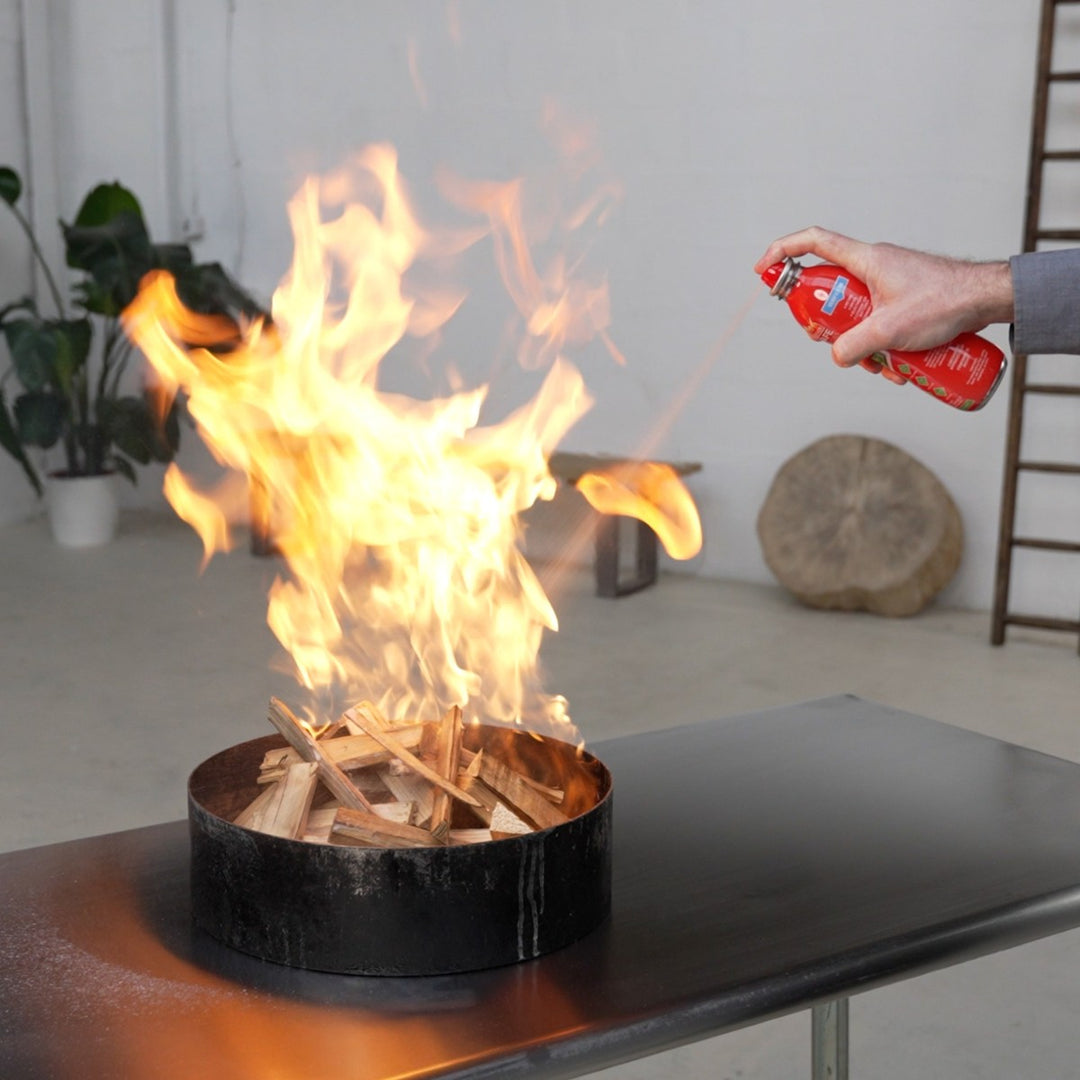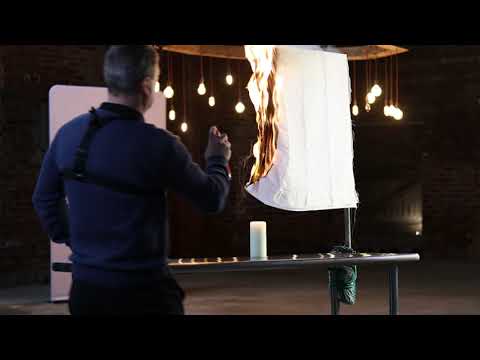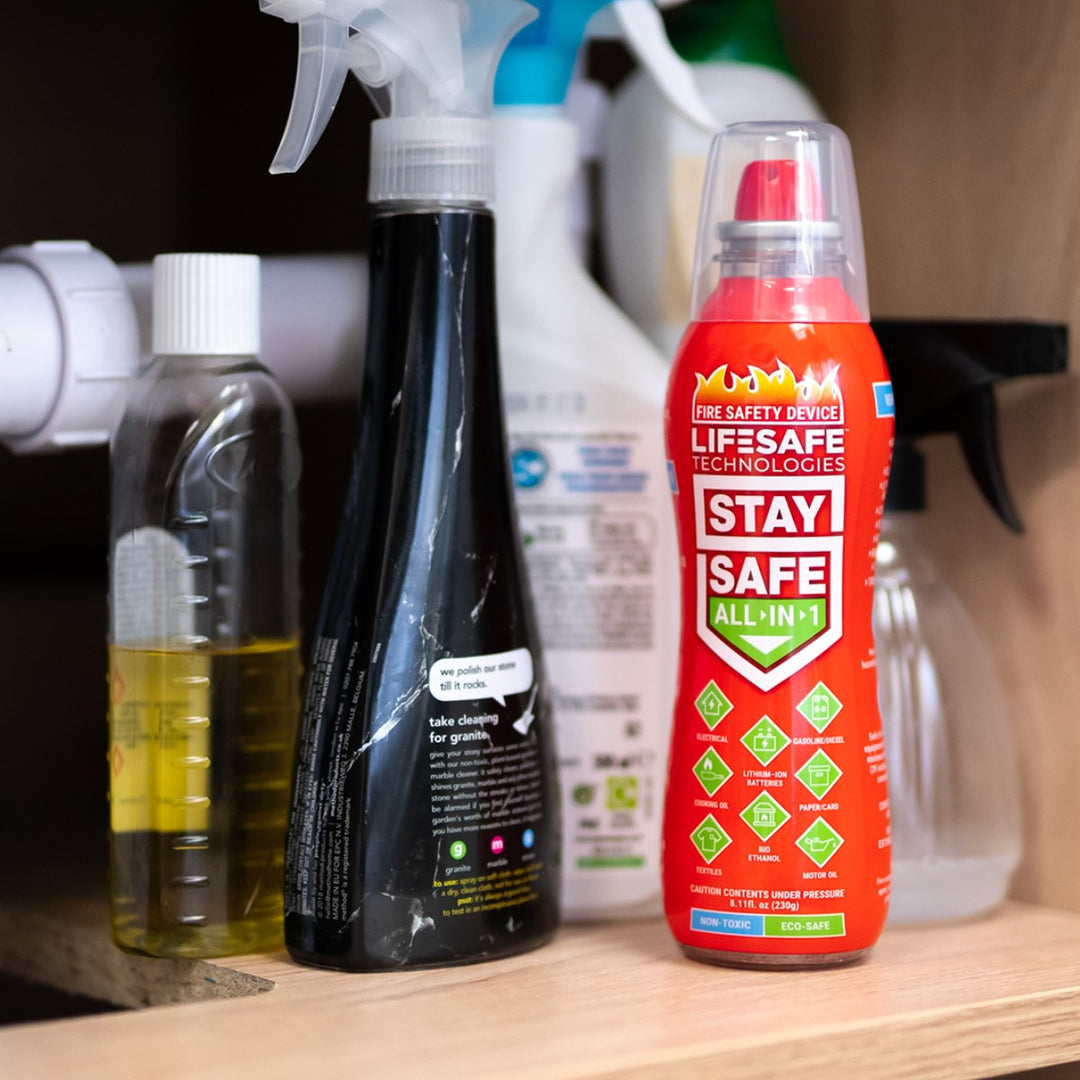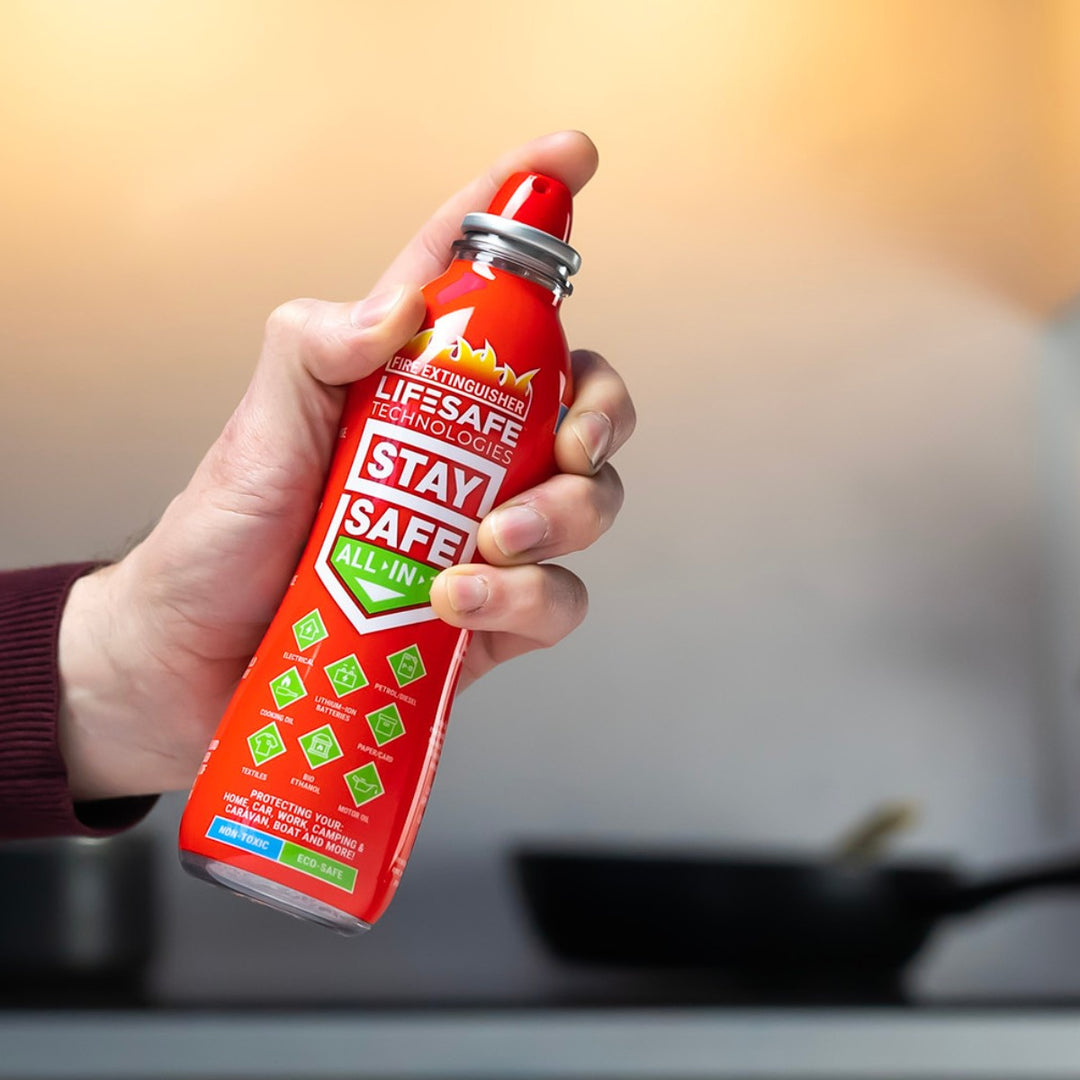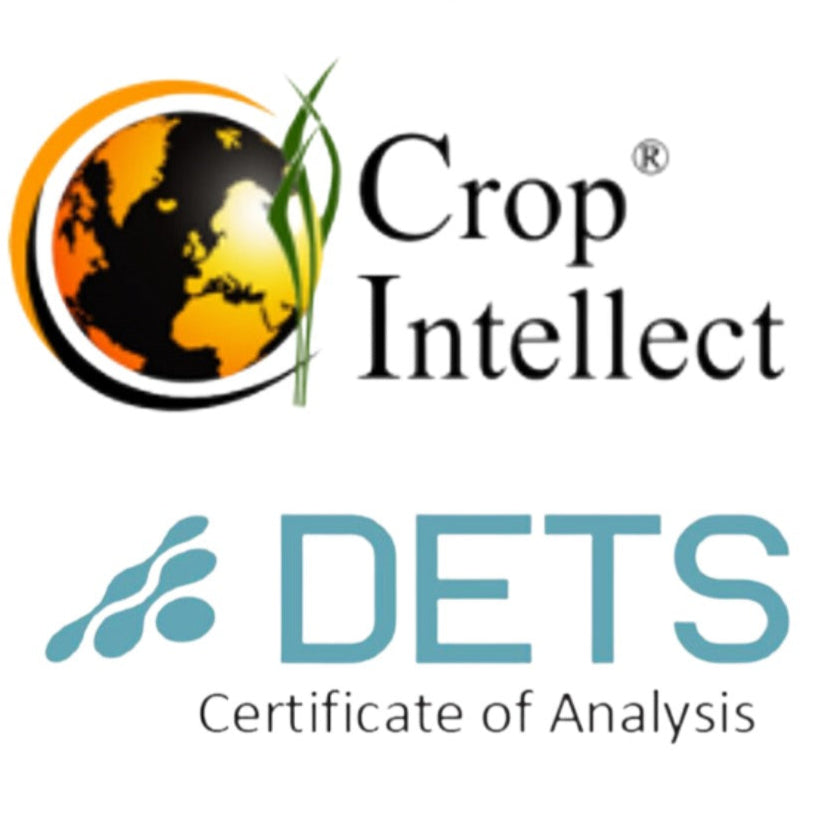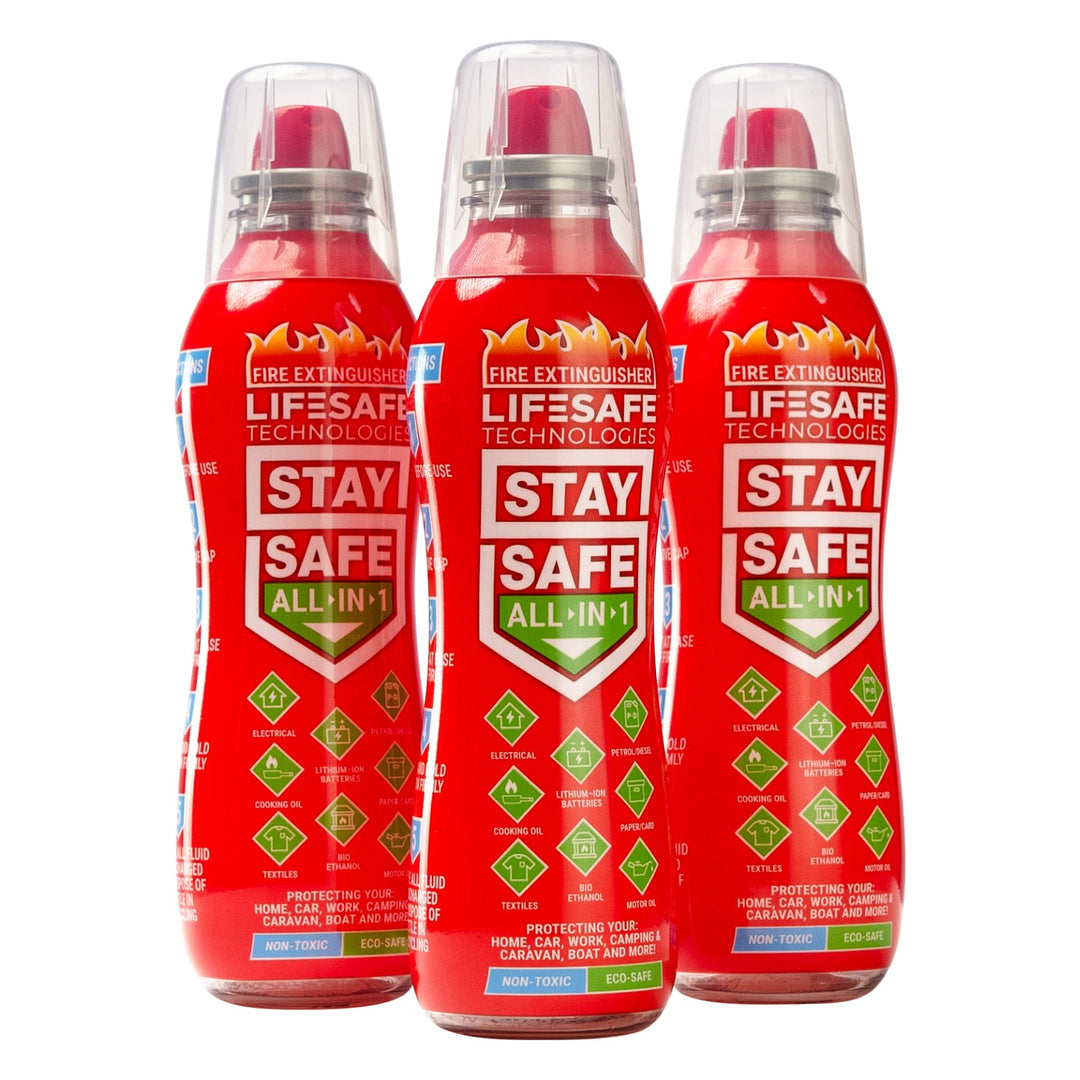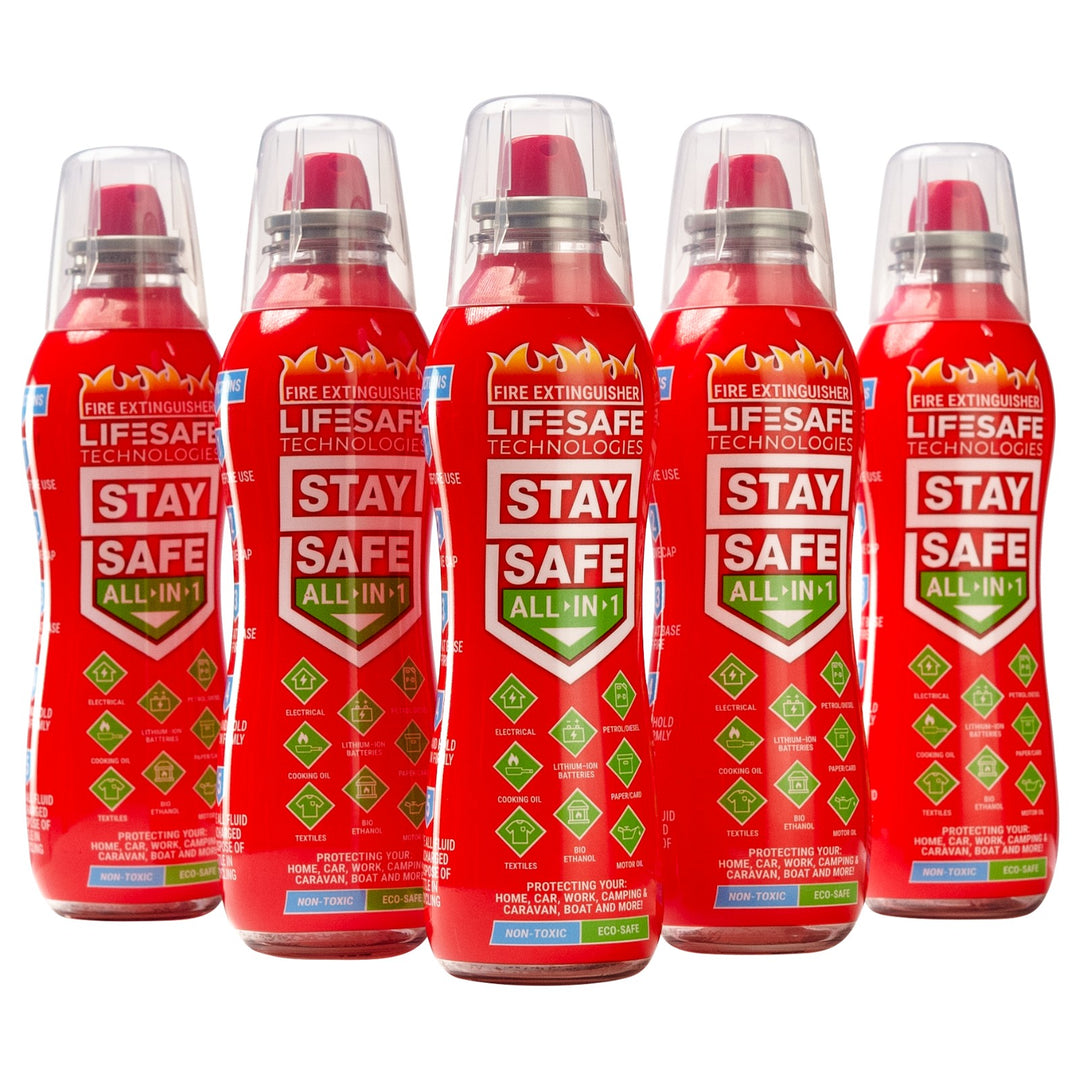 StaySafe All-in-1 Fire Extinguisher
Regular price
£24.99
Sale price
£21.24
Save 15%
/
Tax included.
Shipping
calculated at checkout.
DISPATCHED IN 2 DAYS
Next-day Delivery Available
An extinguisher that's built to tackle MULTIPLE types of fire, in seconds.
The StaySafe All-in-1 Fire Extinguisher is a compact, lightweight recyclable plastic aerosol fire extinguisher.
Introducing the All-in-1: built on the success of the StaySafe 5-in-1 this gives you wider protection - now tackles multiple types of fire.
It's designed to for use anywhere a fire might start. It's easy to use too – just remove the cap, point at the fire and spray until the unit is fully discharged.
Testing and Approvals
Contains BS EN3 tested fluid
Bottles and filling tested to FEA Part 1 and Part 2
Conforms to BS 5597
Confirmed to extinguish multiple types of fire - Petrol/Diesel, Electrical, Lithium-ion Batteries, Cooking Oil, Bio Diesel, Motor Oil, Bio Ethanol, Textiles, Timber and Wood.
Positive to Plant Life
No negative impact on water
Fully recyclable plastic bottles and fluid
Safe for use on electrical
equipment up to 1000V from a minimum distance of 1 metre
Delivery Charges
The delivery charge for your order depends on where you live, the total weight of the order and your selected shipping method. Please see the table below.
There may be a higher delivery charge if you live in the Islands or a remote location in the UK. Please see our list of "Islands and remote location" postcodes.
Special Delivery Instructions
If you add special delivery instructions, please leave a signed piece of paper with the same instructions on the outside of your door, as the driver is otherwise not able to leave parcels eg in a porch etc. If you have left a delivery instruction to, for example, 'leave the parcel in porch if not in', we cannot provide you with a proof of delivery, should the parcel go missing. We will, however, provide proof of shipping, if requested.
You are responsible for any losses suffered as a result of a parcel being left in a location at your specific request.
Delivery Times
If goods are ordered before 4:30pm, we will usually despatch the same day.
Most shipments are sent with next day delivery (working days only) transport. Some products weighing less than 2.0 kg might be offered with an alternative economy service with 3-7 working day service. If you have selected economy service and you have not received your parcel within 5 days, please contact us.
Unfortunately, we cannot offer compensation for deliveries that are delayed.
Customers living in remote areas should note that some delivery services may be affected, or not available. We will inform you as soon as possible of any potential problems. If you want to check before placing an order, please call us on 0207 8704890.
If a customer is not in when delivery is attempted, the delivery driver/postman will leave a card with details of the local depot. Please note that if the parcel cannot be delivered after several days and has to be returned, we reserve the right to charge you a second delivery charge for re-delivery, should you still wish to receive the product.
---
FAQs
The StaySafe All-in-1 has been put under rigorous testing and approvals and has passed many important fire safety markers including:
BS EN3 tested and approved fluid. Tested on Class A, Class B, Class F and Di electric

BSI tested to extinguish lithium ion-batteries

FEA Part 1 and Part 2

Conforms to BS 5597

BSI tested and confirmed to extinguish Petrol, diesel, timber, cooking oil, bio diesel, bio ethanol, textiles, di-electric and lithium-ion battery fires
StaySafe All-in-1 is also:
Safe for use on electrical equipment up to 1000V from a minimum distance of 1 metre
Positive to Plant Life
No negative impact on water
Fully recyclable plastic bottles and fluid
In this case the standard is a little behind the innovation. The EN3 test is designed for metal containers, so the StaySafe All-In-1's innovative plastic bottle means the EN3 test is not designed for our product. This is why we requested that BSI independently test and verify the product to ensure it is safe and effective.
The StaySafe All-in-1 has a lifespan of 3 years, so should be recycled if not used in this time. Check the date on your bottle for the exact expiry date. The bottle is fully recyclable, and the fluid has no negative impact on the water table, meaning it's safe to dispose of down any drain.
The StaySafe All-in-1 has been tested and stored up to temperatures of 49 degrees Celsius or 120 degrees Fahrenheit with no adverse effect on the product. At lower temperatures it can be stored as low as -10 degrees Celsius or 14 degrees Fahrenheit.
We recommend using the whole contents of the StaySafe All-in-1 when putting out a fire. This means you ensure the fire is out and will not reignite. Once used, it's advised to have a full bottle ready for the next emergency.
The StaySafe All-in-1 can be used on lithium battery fires thanks to its innovative fluid. Lithium batteries can be found in many items in our homes including electric scooters, e-bikes, your mobile phone, laptop and even electric toothbrushes.
Inside the StaySafe All-In-1 is a wet chemical that is both non-toxic, non-hazardous and eco-friendly.